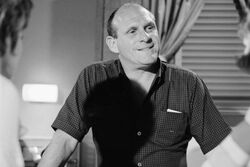 William Asher directed 100 episodes of "I Love Lucy".
Vital information
Gender:
Male
Birthname:
William Milton Asher
Born:
August 8, 1921
Birthplace:
New York City, New York, U.S.
Died
July 16, 2012
(aged 90)
Deathplace:
Palm Desert, California, USA
Occupation/
Career:
director, producer, screenwriter
Years active:
1948-1990
Family and Personal information
Spouse(s):
Danny Sue Nolan 1951-1961
Elizabeth Montgomery 1963-1973
Joyce Bulifant 1976-1993
Meredith Asher 1998-2012 (his death)
Related to:
7 children
Character/Show information
Appeared on/
involved with:
I Love Lucy
Episodes appeared in/
involed with:
100 episodes directed

William Milton Asher (August 8, 1921 – July 16, 2012) was a television and film producer, film director, and screenwriter. He was one of the most prolific early television directors, producing or directing over two dozen series.[1] William directed 100 episodes of I Love Lucy throughout the show's run on CBS-TV.
With television in its infancy, Asher introduced the sitcom Our Miss Brooks, which was adapted from a radio show. He began directing I Love Lucy by 1952. In 1964, he produced and directed the ABC-TV sitcom series Bewitched, his best known work, which starred his then-wife Elizabeth Montgomery. As a result of his early success, Asher was considered an "early wunderkind of TV-land," and is hyperbolically credited in one magazine article for 'inventing' the concept of the situation comdey series[2]
Asher was nominated for an Emmy four times, winning once for directing Bewitched in 1966. He was also nominated for the Directors Guild of America (DGA) award in 1951 for I Love Lucy.[3]
References
Edit
External links
Edit