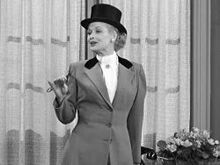 The Fox Hunt was the 143rd overall episode of I Love Lucy, also the 16th episode of season 5 of the series. The episode, was directed by James V. Kern, originally aired on CBS-TV on February 6, 1956.
Lucy wants to spend a weekend on a British estate, but Ricky makes her promise not to try to wangle an invitation out of Sir Clive Richardson, with whom Ricky is scheduled to talk business. Hillary Brooke guest stars.
Plot summary
Edit
Lucy pressures Sir Clive Richardson into inviting the Ricardos and Mertzes to his estate for the weekend. But when Lucy finds out that Sir Clive's daughter, Angela Randall, is flirting too heavily with Ricky, Lucy plans to follow the two of them all weekend, even if it means having to participate in a fox hunt.
Sir Clive's estate is called Berkshire Manor.
Lucy and Desi talked about their Forever, Darling premiere in Lucy's hometown of Jamestown, New York at the end of this episode when it originally aired.
The horse Lucy rides during the fox hunt is named Danny Boy.
Lucy pretends that the imaginary Earl of Wilson "canceled" her weekend getaway to his manor because he was stricken with gout.
Guest starring
Edit