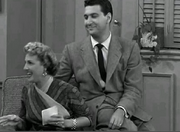 Charlie Appleby, played here by George O'Hanlon, with Ricky in the episode "Lucy and Superman" in Season 6.
Vital information
Gender:
Male
Personal and Family information
Occupation/
Career:
local TV station manager that Lucy feels she still must be nice to try to help Ricky get air time on the station
Spouse(s):
Caroline Appleby (wife)
Related to:
son Stevie Appleby
Character information
Character
description:
Husband of Caroline Appleby, nemisis/friend of Lucy and Ethel
Appeared on:
I Love Lucy
Episodes appeared in:
"Baby Pictures" (Season 3)
"Lucy and Superman" in Season 6
Character played by:
Hy Averback/George O'Hanlon
Charile Appleby is the husband of Caroline Appleby, who is sort of a "frenemy" type of nemisis to Lucy and Ethel on I Love Lucy; he appears in two episodes of the series, first in the episode titled "Baby Pictures" in Season 3 then in the episode "Lucy and Superman" in Season 6. In the first episode, Charile is played by actor/director Hy Averback, then in the episode "Baby Pictures" he's played by actor George O'Hanlon.
About Charlie
Edit
Equally as snobby and bragadocious as his wife, Carolyn, Charlie is the manager of a local television station, and he often is sought out among his circle of friends to secure television time slots. Lucy feels he must try to be nice to both Caroline and husband Charlie, for he has the influence to secure potential airtime for Ricky, who welcomes media exposure for the Cobana Club shows. Charlie loves Carolyn and his son, Stevie deeply, and, like the Ricardos seek for their son Little Ricky, he wants to provide them with nothing but the best.
Ad blocker interference detected!
Wikia is a free-to-use site that makes money from advertising. We have a modified experience for viewers using ad blockers

Wikia is not accessible if you've made further modifications. Remove the custom ad blocker rule(s) and the page will load as expected.